A store near me was liquidating their stock of gdiapers in a two for one sale. Though I have always been a "Bummis" prefold and cover fan, I decided at that price it was worth it to give them a try, especially since I had read many places that the gdiaper system can be used with prefolds.
When Wilhelmina was born we tried our much loved Bummis covers on her for the night and it just didn't fit right and they still don't for right but the gdiapers fit amazingly well.
At home she is always in a prefold with no cover, but just a prefold belt holding it up, it is perfect because it makes EC easy and we feel right away if she is even slightly wet.
But when we go out, I want a well fitting diaper that is easy to get on and off and the gdiaper turned out to be exactly what we needed. However, the small Bummis prefolds that I have and use just didn't fit right in the the small gdiaper cover, so I was using the flushable inserts when we went out. The problem with that was that we would often come home and she would still be dry (I potty her when we are out) but there would sometime be a tiny stain of bm so though it wasn't "used" I couldn't reuse it either. So the solution was to make my own inserts. These work perfectly in the gdiaper and keep the fit of the diaper trim. I used 2 layer of "Zorb" sandwiched between 2 layers of flannel and made them the exact same size as the flushable inserts.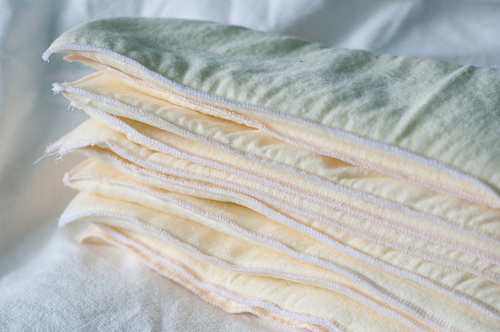 Because I will be travelling in 3 weeks and out of the house for 3weeks, I needed to decide what I would do diaper wise. I will be using the prefolds and diaper belt while I am at Annie's, but for the travelling and the time in Vancouver, I will be using the gdiapers exclusively. At this moment I have a few gdiapers but only two of the small size. The medium just don't fit Wilhelmina yet and I doubt that they will be fitting that much better in 3 weeks. Though I will bring them if she happens to outgrow the small while we are in BC, I felt the need to get some more of the small size so I won't get stuck. But instead of buying, I decided to try to make them…
I thought that the hardest part would be to find the snaps, but it turns out that the Elastic was what I couldn't find… (and I only found velcro and not aplix)
Though I might tweak a few things still (and try to find some better elastic) I am quite happy with the results…
Here are the inside and the outside of the cover (made with knit fabric I already had)
I made a liner out of PUL, but I can use the "gdiaper" liners in there also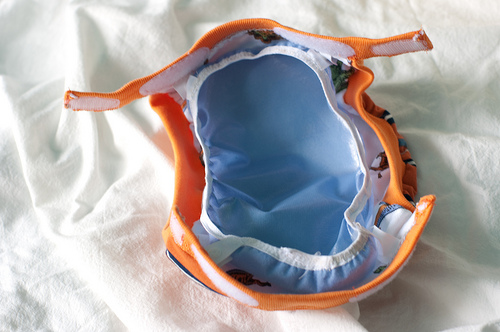 I didn't have knit ribbing, so I used a scrap of normal knit for the leg cuff and pulled it tight while sewing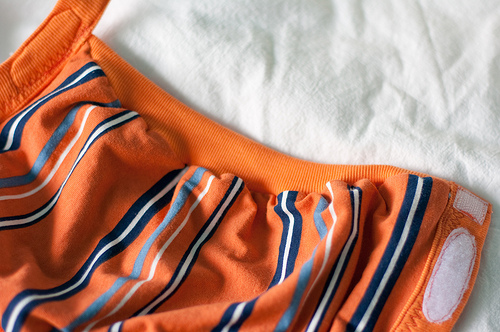 Here is one for the snaps for the liner. It is "snap tape" so all I did was cut and sew it in.
(Ignore the bad stiching… it was almost 1am when I did the velcro)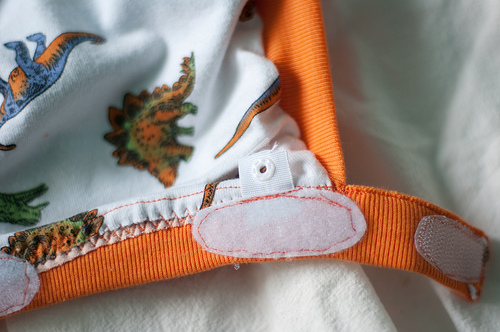 All together with the liner snapped in and the cloth insert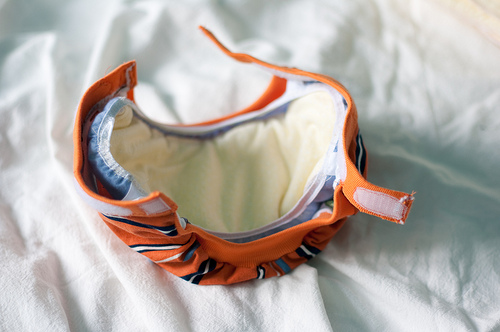 All done! and Action shots…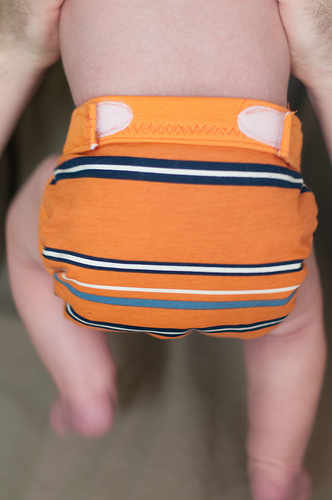 As I said, I really want to find better elastic that is wider. I covered the elastic on these with Orange Knit fabric which made it a bit stiffer than I would have liked but it is still very usable and looks comfortable.  Besides the waist, the trim and fit is exactly the same and the liner that I made is interchangeable with the original gdiapers.
I plan on making more of these 🙂