I had my second craft fair this weekend and wow, what a difference! This fair (Old Skool Crafts) was much bigger than the other though it was not that big according to some of the vendors that I talked to. I really do think that for the crowd, my needle felts stood out. I didn't stop for a minute. There were always people at the table and they stayed and talked and many bought. I was so busy that I barely was able to stop and talk to friends that came to see me and it was impossible to get even a small conversation in.
Colin came and spend the day with me on Saturday. He was a great help to get things brought in and set up in the morning and then he found a friend and spent the day mostly with her. When he wasn't with her he was at my side reading, snacking or just watching. When I went to the bathroom at one point I came back and saw that not only was he keeping an eye on the table but he was actually showing people at the table how needle felting works. It was a really good day for both of us and it was fun having a mom/son day like that.
On Sunday the whole family came and spent the day which was also great. The kids got used to being in the hall and found new friends, went out for lunch and tried the homemade treats at the little café. This was in a church basement and they were selling these large portions of baked goods for .75. The kids all got one in the morning and then in the afternoon, one by one they came and got a bit of money for another.
At one point I was talking with someone at my table and Willa came up to me and kept on asking me to look. She was holding a piece of cake in a plate with a napkin and looked so proud. I said "Oh Lucky you, go sit down and eat it"… so she did.
Then Simon came to see me. "Did you give her money for the cake?" he asked…
"um no?… I thought you did"…
then he said… "She had a bit of money in her pocket… I think some is missing and she said she paid for it"
He then took a dollar and went to the counter. She had indeed went to the counter on her own, gave .20 and got a piece of cake. The ladies refused for us to pay the difference…
When he got back to her… she said her catch phrase….. "I Told You" in her sing-song voice.
I think that moment was the highlight of my day 🙂
So here is a little tally….
The pieces most talked about and which brought people to the table.
Definitely my Cat, the Mushroom House and Cthulhu. I was on the corner of an isle and the Mushroom house was on the top of the display I had and it really brought people  to my table. My cat was another that caught the eye, even though he was right in the middle of my table. There were even some that saw his bum from browsing the tables behind me and came to see him.
A Cthulhu fan can always be spotted when they saw Cthulhu first. He was also a hit among some of the vendors also and even starred in a few pics and travelled around the room a couple of times.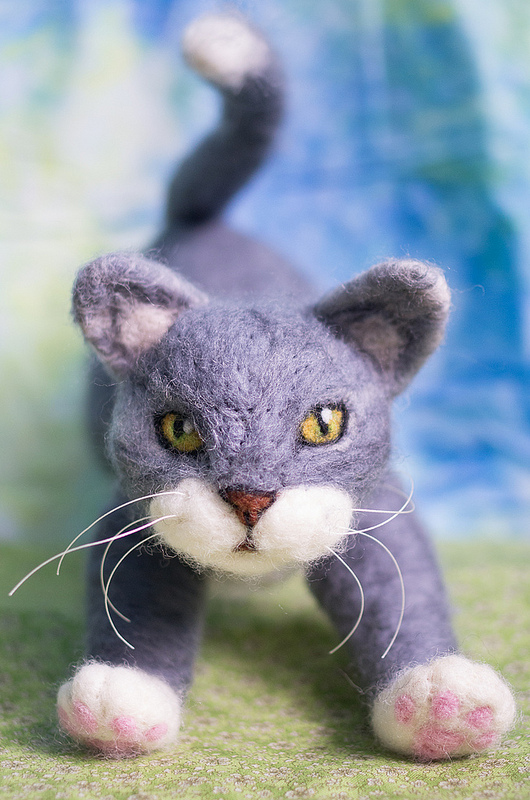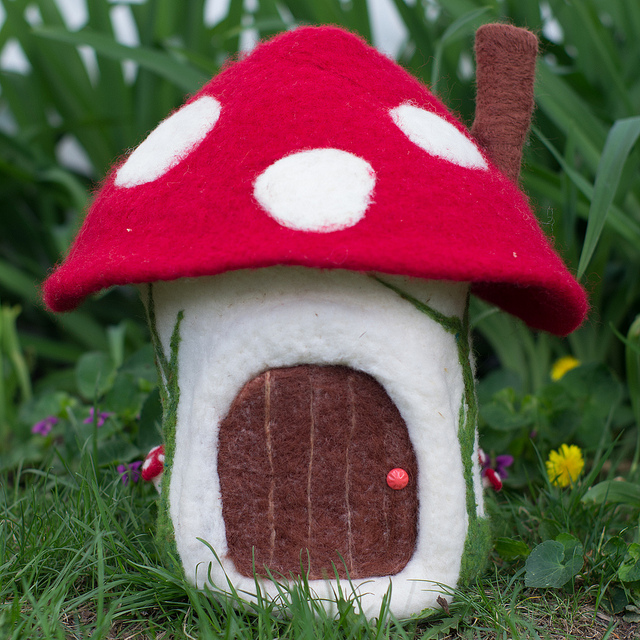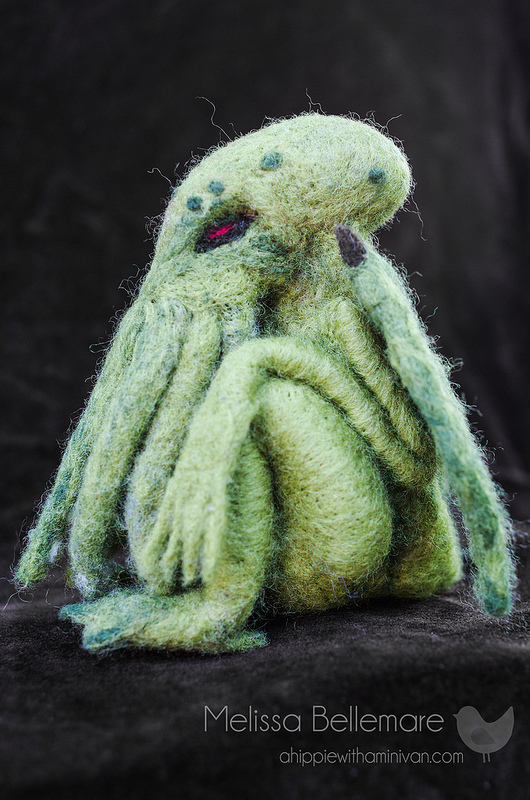 What I thought would sell better but didn't at this fair…
My earrings and my cards. I really wish they would have done better but I think it was just not the right crowd for them.
What did really well… Ornaments were the biggest hit. Especially the 5-15$ range ones though a couple higher priced ones went also, especially the baby penguins.
A couple of my bigger pieces and animals have also made their way out. My brown bear, my first pig, one of my foxes, my hedgehogs, the polar bear I made recently and I think the hardest to let go of and the biggest piece that I have sold to date is my mushroom girl. It had a little twinge in my heart when she got picked but it was also a great feeling and I know that she will be loved.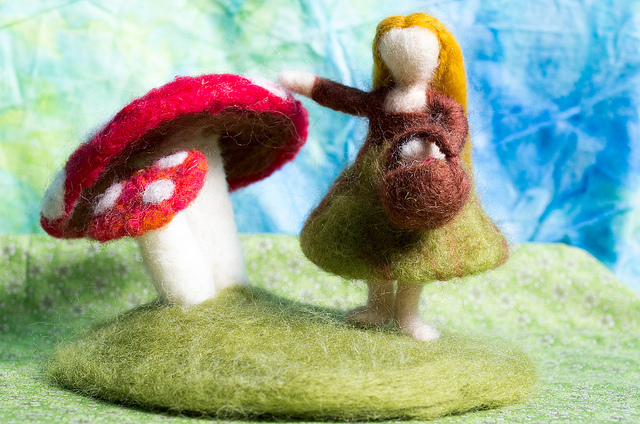 In the last week or so my orders on Etsy have also picked up. With the craft fair and the Etsy orders it feels like this has really started. That my creations not only mean something to me but to others and with this I am contibulting not only to the family financially but I am also putting money towards our bus and future.